Add your review
Review Comfortable cooling mat for dogs: at home and on the go
Comfortable cooling mat for dogs: at home and on the go
The powerful cooling mat that really cools! 100% dry, pleasant refreshment for at home, in the dog crate in the car or on the go. Works well (see pictures)
2-3 days
The 100% dry cani.cool evaporative cooling mat for dogs cools best!
Dogs feel most comfortable when the outside temperature is below 20 degrees Celsius. Panting is the only way to cool the body at higher temperatures, because unfortunately they cannot remove their warm fur. Helps dogs significantly reduce heat stress on warm days.
The main features
optimally supports the dog on warm days
offers up to 3 days of cooling comfort
provides refreshment up to 15ºC below ambient
can be reactivated over 750 times (54,000 hours, for a dog's life)
stays 100% dry inside and out
is machine washable and has antibacterial properties
is easy to use and can be easily reused
is light, non-toxic and durable
is CE marked
A comparison with cheap, gel-based cooling mats clearly shows the superiority of the cani.cool technology: after several hours in the room it is still over 16 ° C cooler when other mats have already become almost hot.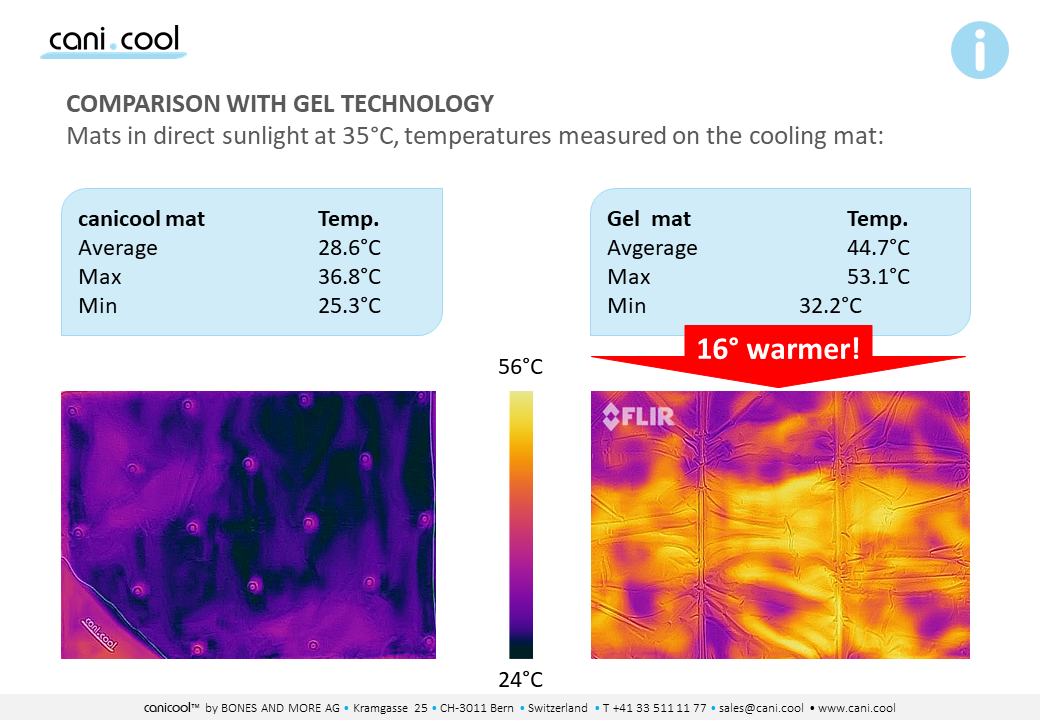 Instructions for use
Some customers ask us which side is the cooler. Both sides of the cooling mat are almost identically cool. However, the gray side consists of a different surface material and this has a warmer effect on our human skin than the black side. The situation is similar if you hold a glass with one hand and a piece of paper with the other: the paper also appears warmer.
The panting of the dogs causes a higher heart rate and thus an additional load, especially in older dogs . The cooling capacity of our cooling mat perfectly covers the needs for relaxation in a cooling environment. In collaboration with veterinarians , the mat was adapted to the needs of the dog and turned his dog bed into a cooling oasis. Older dogs, which already have age-related changes in the cardiopulmonary circulation, can be optimally supported by the cooling mat in the warm months.
When activated, the cooling mat can also be simply folded up and taken away. So the dog always has the required coolness, no matter where you are with him.
The exceptional cooling performance means that the dog is more efficient in warm environments and its circulation is spared. Especially with older dogs, the cooling mat can massively improve their quality of life in summer and reduce the heat-related circulatory stress.
But you can also use the cooling mat, be it sunbathing, lying on a deck chair, in the car, etc. Simply activate with water and no sunbathing gets too hot (Warning: UV rays can cause skin diseases, always ensure sufficient protection).
No cooling technology, no additional gels or chemicals are required, it works with water and is 100% dry.
5 stars based on 5 reviews
12 May 2020
Miriam
Super! Die erste Kühlmatte, die ohne großen Aufwand wirklich über Stunden kühlt! Man braucht keinen Gefrierschrank, Leitungswasser kriegt man immer irgendwo und die Matte ist im Gegensatz zu den Gel-gefüllten Matten auch schön leicht. Bin begeistert!
05 Aug 2018
Anja
Ich bin begeistert von der Matte - ich hatte vorher 3 andere Matten (Gel, Kügelchen) welche alle nach kurzer Zeit kaputt waren und kaum gekühlt haben. Diese tut genau das was sie soll, der beste Kauf, den ich bei diesen Temperaturen für meinem Hund (französische Bulldogge) machen konnte. Endlich kann er ruhig schlafen :-) ich (bzw. mein Hund) nutze die Matte jetzt schon seit 1,5 Monaten, habe sie schon in der Waschmaschine gewaschen und sie funktioniert noch immer wie am Anfang!
22 Jun 2018
Tina
Diese Kühlmatte ist der absolute Hammer. Mit meinem älteren, herzkranken Malteser war Auto fahren bei Hitze trotz Klima fast nicht mehr möglich. Dank dieser Matte geht das wieder wunderbar.
14 Jun 2018
Daniel
Geniales Teil: Die Fussball-WM kann kommen und mein Hund chillt auf der Kühlmatte, wenn die Tore fallen! So sind alle glücklich beim public viewing im Garten
05 Jun 2018
Nicolas
Verwende die Kühlmatte im Auto in der Hundebox. Da die Klimaanlage meines älteren "Hundeautos" nicht genügend Kälte produziert, wird es in der Hundebox oft recht warm beim Fahren. Die Matte kühlt sehr gut. Hat früher eine Matte mit Gel, leider hat die nichts gebracht.